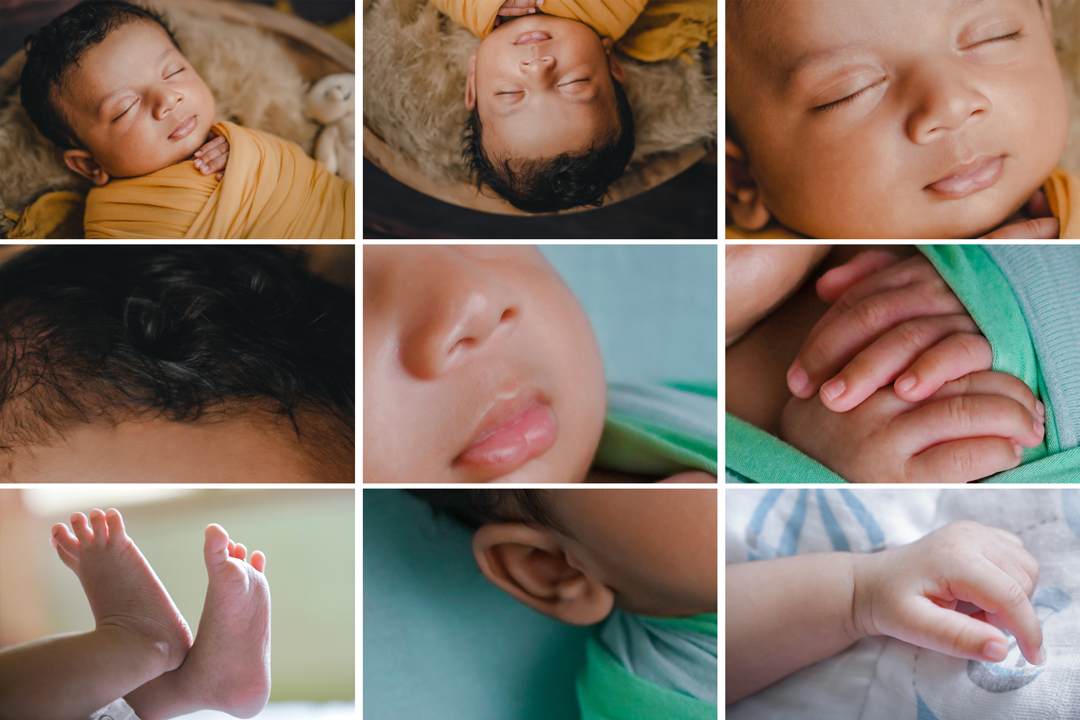 Capturing the golden moments of your child's journey with help of Baby photoshoot is a lovely way to preserve memories for a lifetime. Every milestone, from their first grin to their first steps, deserves to be remembered and honoured.
Phometo Baby Photoshoot is the best place to contact if you live in Bangalore and are looking for talented Baby Photographers with the Best Baby Shoot Location Bangalore. Our professional Baby Photographers in Bangalore with their knowledge and creativity skills can assist you in producing magnificent and enduring pictures of your tiny bundle of joy.
In this blog post, we will explore the different stages from 1 to 12 month baby photoshoot, its importance and also provide helpful planning advice.
Plan Your Baby Photoshoot with Phometo Photography Bangalore:
Here are the different stages of kids photoshoot that you can be choses to cache their memories as beautiful portraits.
Baby Photoshoot at One Month / Newborn Photoshoot:
A one month old baby's innocence and delicate features are worth capturing. We specialize in capturing the pure essence of your newborn baby photoshoot at one month. Whether it's a theme baby photoshoot or a cosy newborn photoshoot at home session, we can create a comfortable and safe environment to capture your baby's first moments beautifully with newborn family photos.  It is always bliss to watch these portraits of cute little munchkins rapped in with baby robes.
If you want a more private and personalised setting, we provides professional Newborn photography at home in the comfort of your own. This makes it possible for your newborn to feel at ease and relaxed, which produces photos that are natural and unposed.
2 Month Baby Photoshoot:
Your baby's individuality begins to emerge as they become older. A 2 month baby photoshoot with Phometo Photography captures your child's growing expressions and behaviors. We offer gorgeous backdrops and props to enhance your baby's special personality.
3 Month Baby Photoshoot:
Your baby starts to interact more and show more interest in the environment around them at the age of three months. Our professional baby photographers are skilled in interacting with your newborn and capturing their constantly changing facial expressions. We understand how to create a joyful and energetic environment to bring out the best in your young child.
4 Month Baby Photoshoot:
Phometo Photography excels in creating captivating portraits of your four month baby photoshoot. Whether you want to focus on those adorable little fingers and toes or capture their gummy smiles, we have the expertise to make your baby's personality shine through every image.
5 Month Baby Photoshoot:
As your baby approaches the five month milestone, their unique characteristics and traits become more apparent. Our photographers can expertly capture your child at this stage, capturing his or her increasing curiosities and developing individuality. Our team have an excellent eye for detail and are capable of producing breathtaking five month baby photoshoot photographs that capture your baby's development.
Six Month Baby Photoshoot:
It's an exciting time for you and your Baby at six months. Your baby's developmental milestones, such as sitting up or grasping things, can be captured during a fun 6 month baby photoshoot session with Phometo Photography. With our skilled photographers, we make sure that every shot captures those wonderful moments and tells a narrative.
Seven to Twelve-Month Baby Photoshoot:
As your baby grows during their first year, we offer a variety of photographic alternatives to commemorate their development. From sitting and crawling to standing and walking, every milestone is a reason to celebrate. We will help you through each phase, our skilled photographers will take priceless pictures that you may remember for years to come.
Phometo Baby Photography in Bangalore is the ideal place for documenting your child's first year of life. Our know-how, imagination, and dedication to producing lovely pictures make us the top option for Baby or Kids photoshoots. Whether it's a milestone shot, a themed session, or a one-month baby photoshoot, cake smash photoshoot, we have the talent to convey the essence of your kid's special personality. Plan a baby photo session with Phometo Photography to capture those priceless moments with best baby photoshoot location in Bangalore.
So why wait, call us @9620200005 or fill up form at our website now to know about the themes and packages to plan your baby photoshoot in Bangalore. We assure you the best service and with great memories of your kids to celebrate for all time!
Thank you for reading this blog,
Tejaswini C