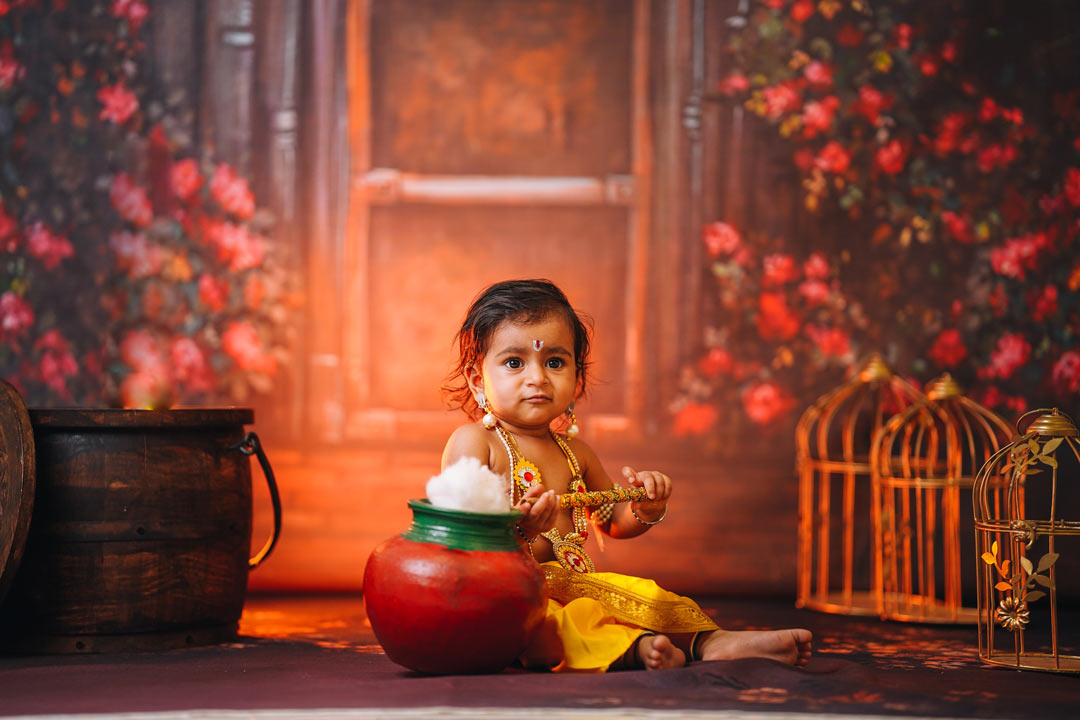 This blog gives you ideas to plan your Krishna Janmashtami Baby Photoshoot to cherish the Krishnashtami occasion special.
Ideas To Plan Your Krishna Janmashtami Baby Photoshoot | Radhe & Krishna Theme Baby Photoshoot by PHOMETO
One delightful way to commemorate this special occasion is by organizing a Krishna Janmashtami Baby Photoshoot or Krishna theme photoshoot for your little one. A baby's innocence and the captivating aura of Lord Krishna come together to create heartwarming and memorable pictures. 
The joyful celebration of Lord Krishna's birth, Krishna Janmashtami, is a time of profound religious significance and vivacious festivities. This auspicious event, immersed in colours, music, and devotion, provides an ideal opportunity to capture the sense of divinity through photography.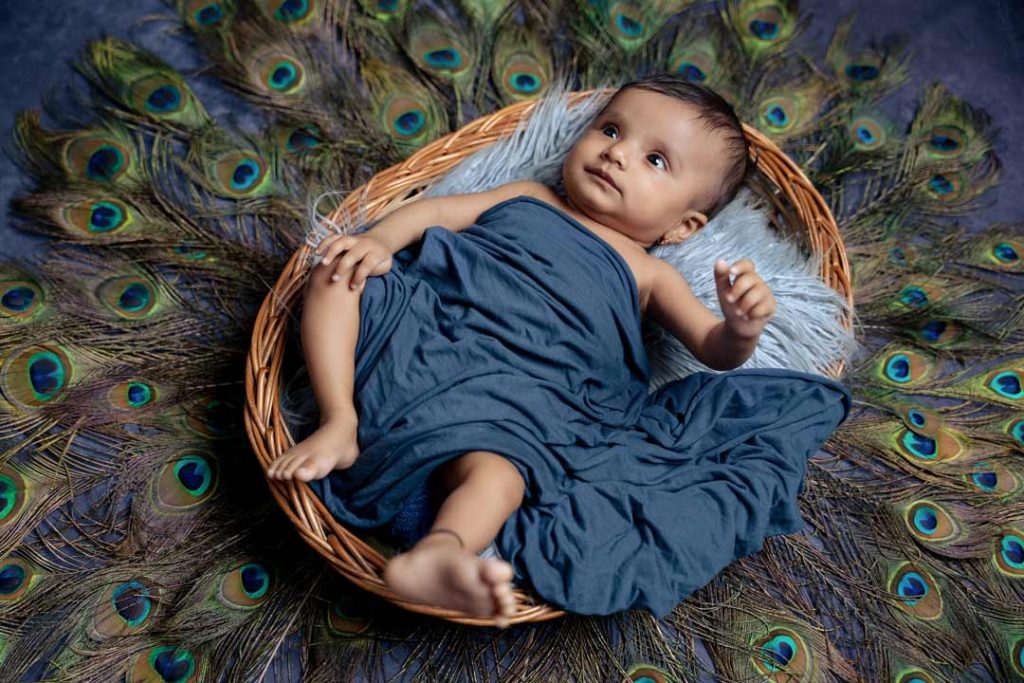 In this blog, we'll take you through a simple and comprehensive step-by-step process to plan the perfect Krishna Janmashtami photoshoot for your child.
How to plan your Krishna Janmashtami Baby photoshoot or Krishna theme Baby photoshoot.
1. Plan the Date for the Shoot: 
Schedule or plan your shoot based on your availability and baby's behaviour and playtime. Assure the Kids to be well-rested and fed so that they are in a good mood for a successful little Krishna photoshoot.
2: Gather Accessories and Props 
Choose the right attire, props and accessories that can add depth and authenticity to your baby's Krishna Janmashtami photoshoot! Use elements like a butter pot, a small flute, or a headdress made of peacock feathers. Soft toys that resemble cows or other animals can help improve the Radhe and Krishna theme photoshoot and give your baby a fun environment.
3. Choose the Perfect Location:
The place you choose serves as the backdrop for your baby's Krishna theme Baby photoshoot. Choose a place that goes well with the theme, such a garden with lots of lush vegetation or an inside space decorated with antiques. To catch every entrancing moment, make sure the venue is secure, cosy, and well-lit.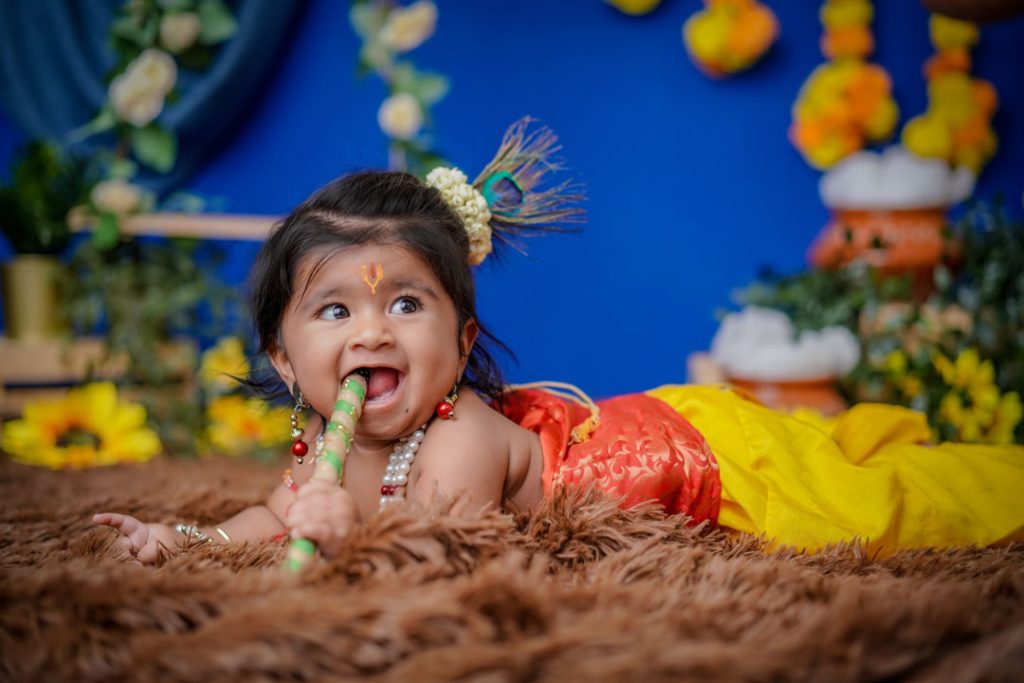 4. Look for Professional Photographers:
Consider hiring a professional photographer for your Krishna Janmashtami photoshoot session if you do not have photography skills and want an unforgettable experience. Their expertise in conceptualising, styling, and documenting moments can assist you in turning your little Krishna photoshoot ideas into a magnificent reality. And they understand the complexities of interacting with newborns and children, ensuring a joyful and safe experience for your child.
5. Focus on Natural Poses and Expressions:
When planning the picture shoot, consider the various positions and images you want to get. Make a list of the essential photographs to make sure you don't miss anything, from lovely natural moments to meticulously staged pictures. Whether it's a sweet smile or a curious gaze, these candid moments are priceless.
10 Best Radhe & Krishna Theme Photoshoot Ideas:
Here are some creative ideas to help you plan a memorable and charming photoshoot:
1. Baby Krishna with Flute: Give your Baby a little flute and dress them in traditional garb like Krishna. Take candid pictures of your child while pretending to play the flute. 
2. Yashoda and Baby Krishna: Recreate the touching scene of Mother Yashoda with little Krishna. Get dressed like radhe with tradituonal attire and get beautiful clicks with your little krishna.
3. Gopika Playtime: Dress your baby in colorful Krishna attire and invite a sibling or friend to participate as a Gopika (cowherd girl) to create a fun scenario. Take candid photos of them having fun, dancing, or getting into mischief like the little Krishna and his pals did.
4. Radha-Krishna Bliss: Dress up your twins or a sibling or with a friend who are in similar age group like Radha and Krishna. Capture their interactions and sweet moments as they replicate Radha and Krishna's sacred love. Photographs of this idea are guaranteed to be cute and adorable. 
5. Butterball Adventures: Set up an environment with a butter pot or a platter of fake butter to illustrate Baby Krishna's mischievous side. Allow your infant explore and play with the butter to create a playful atmosphere. As they interact with the prop, capture their interest and excitement.
6. Janmashtami Pooja: Create an imitation Krishna puja setting for Janmashtami with your child. Create a genuine atmosphere by using traditional components like diyas, flowers, and incense. As your kid performs the rites, capture peaceful moments to infuse the photo shoot with a sense of spirituality.
7. Krishna's Birth: Recreate the iconic moment of Lord Krishna's birth. Design a cozy setting with traditional fabrics and soft lighting. Wrap your baby in swaddling clothes and capture the innocence of Baby Krishna's first moments.
8. Krishna on a Swing: Put your infant in a swing adorned with flowers and colourful fabrics, and then take pictures of their happy faces while they love swinging.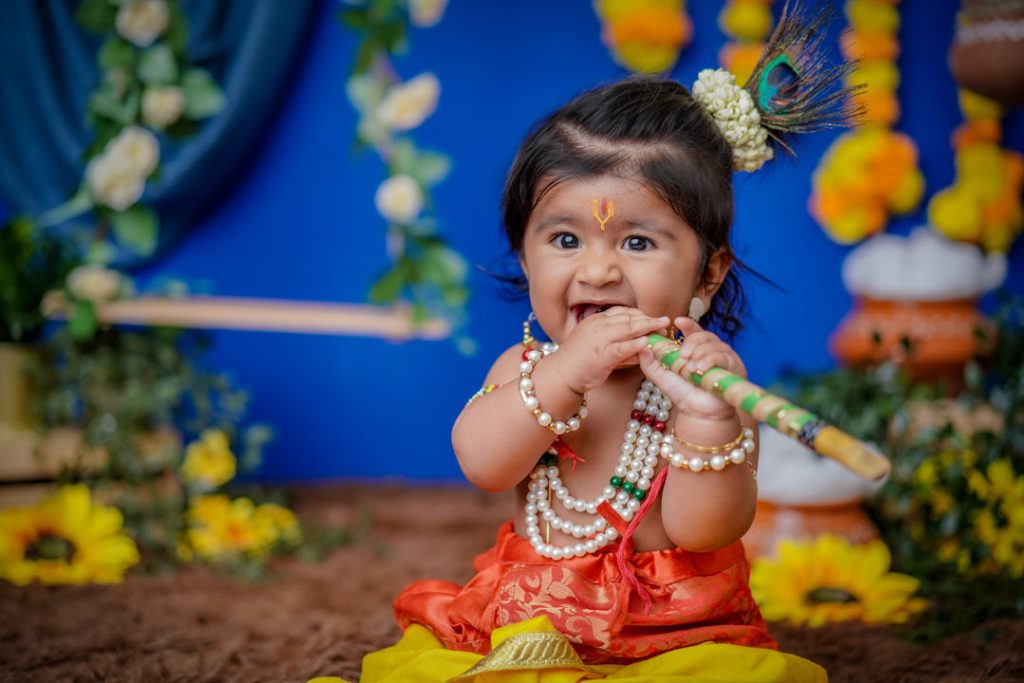 9. Peacock Feather Fantasy: Consider the beauty of peacock feathers, which are a symbol of Lord Krishna. Dress your child in colours similar of a peacock's feathers and deck the environment with peacock feathers. Take close-up pictures of your baby's fascination and inquiry.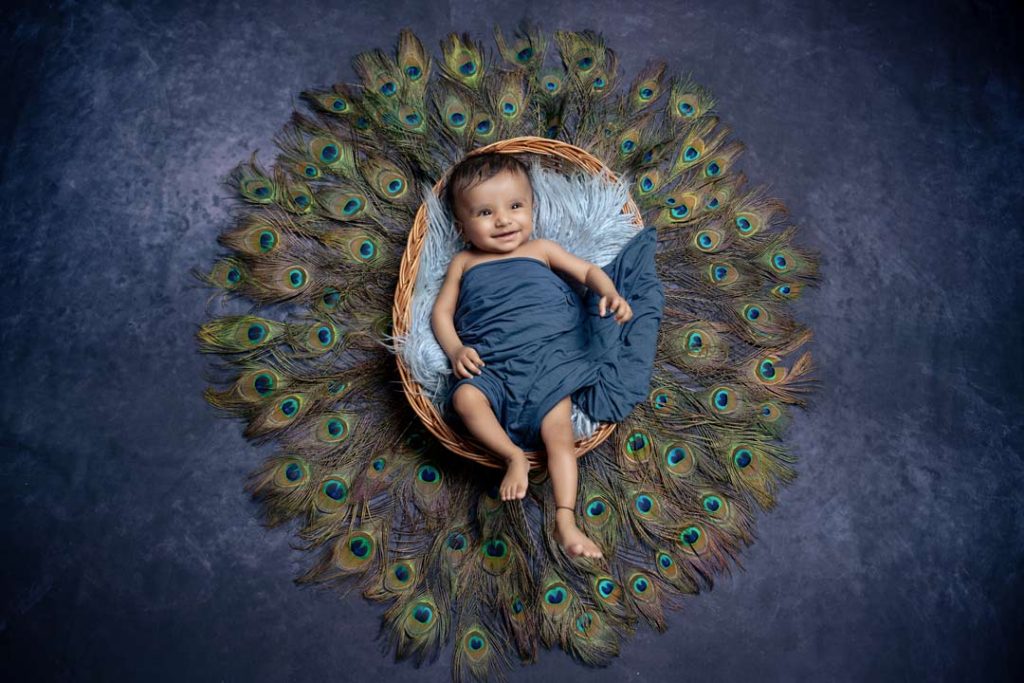 Remember to prioritise your baby's comfort and safety throughout the session. To create a calm environment, add soft lighting, relaxing music, and comforting toys. 
Tips to Have A Successful Krishna Janmashtami Baby Photoshoot:
Prior to the session:
– Pick out your Krishna or Radhe attire clothing and give them a try before the kids photoshoot session if in case you're not using the studio's costumes. For a stress-free baby photo shoot, make sure they are both comfortable and easily fit.
– Plan ahead so that you may arrive at the studio in peace. Kids that have relaxed parents also have relaxed kids.
Day of the Session:
– The most essential thing you can do to promote a beautiful janmashtami baby photoshoot session is to have a well fed and rested kids. Please make sure they've had their nap and eaten something before you arrive. And also keep spare if in case they are hungry with the time.
– Keep it Short and Simple, as kids are cranky with time and if lagged with new place and people.
– Encourage other family members to take part in the photo session. The photo shoot will be more memorable if there are other family members present, such as grandparents or siblings.
– On this beautiful occasion have fun with the kid and create great memories at Krishna Janmashtami Photoshoot.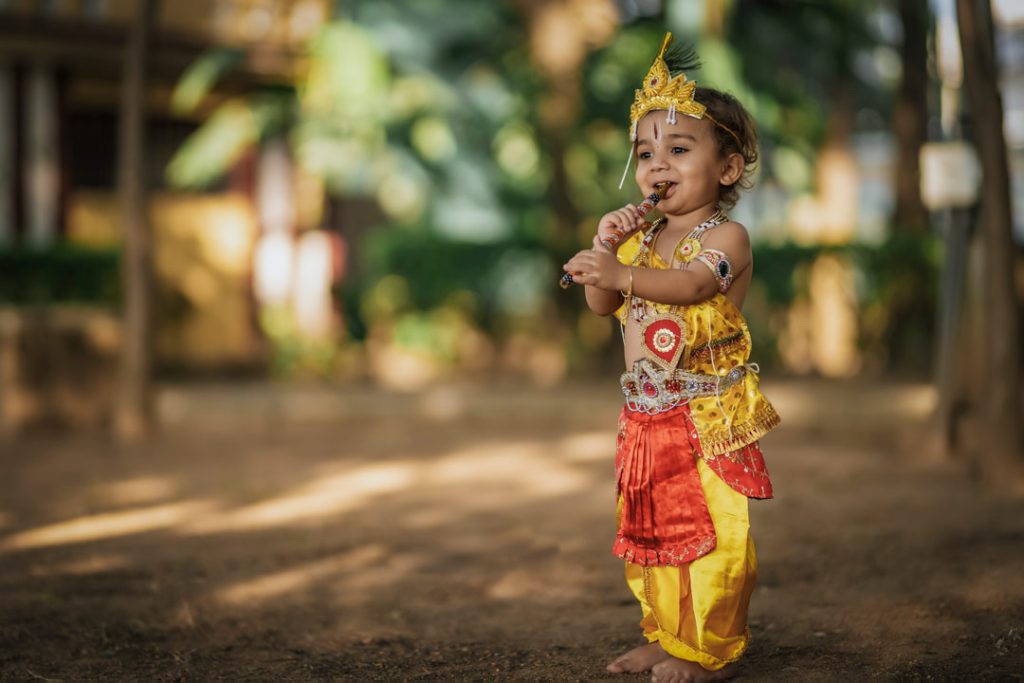 Krishna Janmashtami Baby Photoshoot By PHOMETO Photography Bangalore:
If you are in seek of the top photographers in Bangalore for a Radha & Krishna Photoshoot for Kids, choose PHOMETO to create great memories of your little one. On the occasion of Krishna Janmashtami PHOMETO offers the best Krishna theme photoshoots with better packages and output. For Kids and Baby Photoshoots in Bangalore, we offer experienced Baby photographers, kids friendly clean and hygienic environment, and theme-based props with backdrops and costumes.
Call us @9620200005 right away for further details and booking!
A Krishna Janmashtami Baby Photoshoot can be a heartwarming and happy occasion for both you and your child. By following these easy instructions and perhaps working with proficient Baby Photoshoot Photographers, you can create a set of pictures that capture the essence of Janmashtami and the innocence of your baby's presence. Let your baby's photo session with a Krishna theme Baby Photoshoot become a cherished chapter in your family's journey of love, faith, and celebration by embracing the enchantment of this festive event.
Thank you,
Tejaswini C