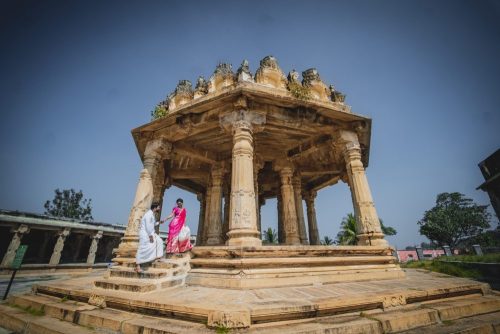 Melkote Pre Wedding Shoot | Pre Wedding Photoshoot Places near Bangalore & Mysore
Melkote Pre wedding Shoot is one best option if you are planning for a Couple Photoshoot around Bangalore or Mysore. 
Melukote is one of Karnataka's sacred cities, which is located in the Pandavapura taluk of the Mandya district in the southern Indian state of Karnataka. It is perched above the Cauvery valley's Yadugiri, Yaadavagiri, and Yadushailadeepa stony hills. The area is quite lovely, lush with foliage, and relaxing. Melkote is a beautiful town known for its Vaishnavas temples- Cheluvanarayana Swamy temple. It's a gorgeous town as well, and I think there are usually movies being filmed there. Are you looking for Outdoor Prewedding Photographers around Bangalore? Then Melkote Pre wedding Shoot is one of the best options for a Day Plan. ...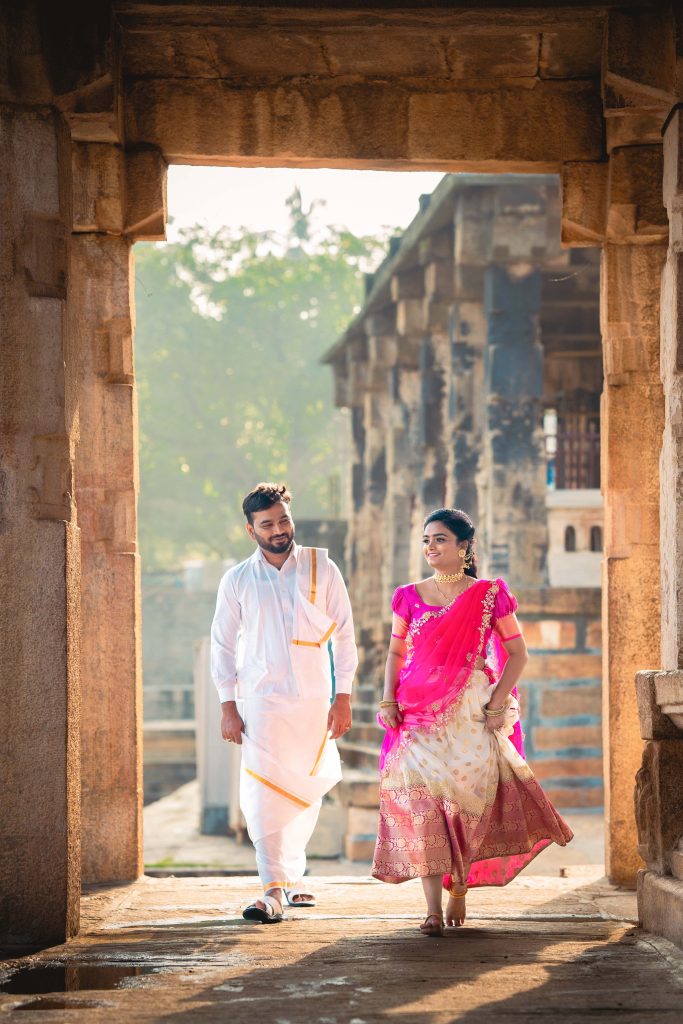 The places in and around here are best-suitable and astounding for Pre Wedding Photoshoots or Cinematic videos for the lovely couple who wish to commemorate their step towards a new journey of togetherness. 
One of the few places in the vicinity of Bangalore or Mysore that offers almost everything temples, a pond, a lake, a hilltop, greenery, history, and architecture is probably Melukote. One may visit there for a spectacular Melkote Pre Wedding Shoot session with a captivating Couple cinematic video and alternatively enjoy the beauty of the place and spend some quality time with your soul partner in a single day. In addition, you can get comfy with the camera and your photographer, which can ease your Wedding Photography sessions.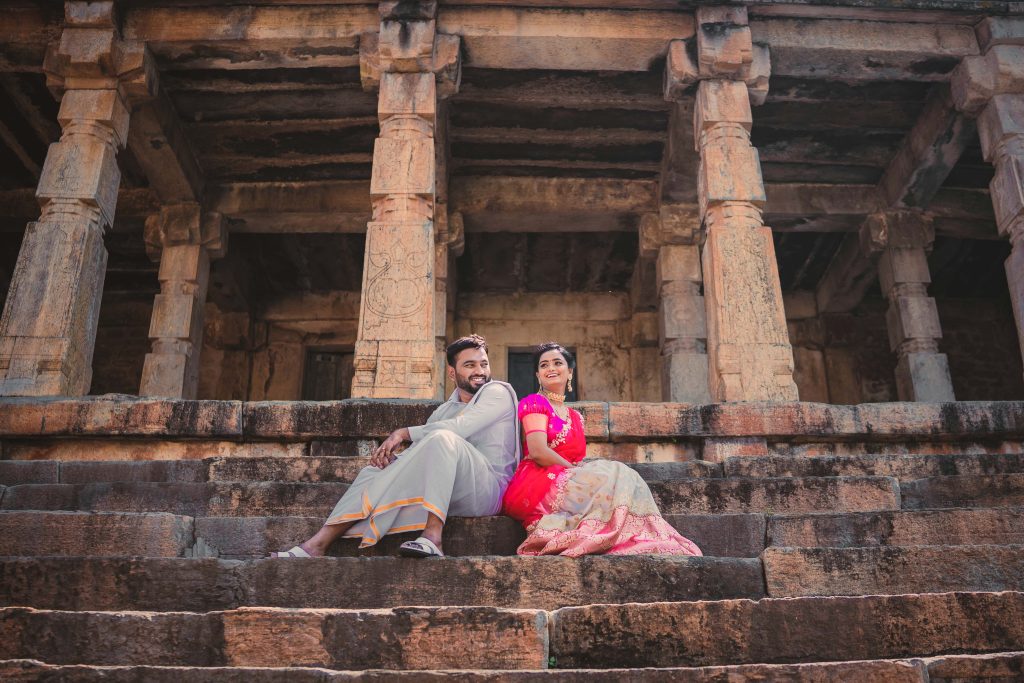 You can also explore Shrirangapatna in the second half, which is on the way back to Bangalore or Mysore. Shringapatana is also known for its scenic beauty and historic temples. This would be the second-best option to shoot before and at the time of sunset which can add magic to the output. 
Whole and whole Melkote & Shrirangapatna would be ideal options for a day pre wedding shoot sessions or post wedding photoshoot. Believe me, you'll not have to regret it if you choose these shoot locations and plan the shoot in advance. Book professional photographers who are well aware of the places and have experience covering all the shooting places here to make your Shrirangapatna & Melkote Pre wedding Shoot memorable forever. 
Book PHOMETO Melkote Pre Wedding Shoot session to experience the best pre wedding video & photoshoot session. We dedicate everything we've got to each project we work on and we give it our all to create outstanding pre wedding photos that tell your storyline of love. We tried our best to satisfy our customers with our services and have successfully completed shooting in many locations like Chikmagalore, Sakleshpura, Mysore, Nandi hills, Goa, Honnavara pre wedding, etc including Melkote. Are you looking for Outdoor Prewedding Photographers around Bangalore? Then Melkote Pre wedding Shoot is one of the best options for a Day Plan. ...
How to plan for an outdoor Melkote Pre Wedding Shoot?
The places/locations, distance, price and packages are briefly discussed below.
Let me walk you through Melkote Pre wedding shoot package and plan of action with PHOMETO.
One Day Melkote Pre wedding Shoot with PHOMETO:
Traveling from Bangalore or Mysore on the previous day and staying at Melkote (a journey of around 3 hrs max). To prepare for the next day's early morning shoot, you must stay in the same area.

DAY 1 (1st Half)- Next Day early morning, the shoot starts from 6 am-11 am. From the 11 am – 2.00 pm break, you'll be exhausted after five hours of shooting.

2nd half, the session gets started post lunch from 2 pm till sunset at Melkote.
If you wish to explore and include the Shrirangapatna Pre wedding shoot to your bucket list, then-
Following the same with the first half at Melkote, pack up and leave Melkote by 2 pm to head towards Shrirangapatna which is just 45mn ride to the location. 

In 2nd half, the shoot starts at 3 pm and can go till sunset at Shrirangapatna.

On the way, if time permits there is a nice cafe called Cafe Garage which allows you to shoot with a minimal charge of about Rs 500 to 1000 and can finish your lunch at the same time and then can cover places at Shrirangapatna. 
You can find the details of the Melkote pre wedding shoot locations, charges if any, and distance information at the last.
Tip /Suggestion:
Remember, a fresh mind and sound sleep are significantly important components as you are the center of attraction on camera on the day of the Pre wedding photoshoot. 

Plan and discuss the possibilities and places with your photographers if you have anything in mind, so there won't be any haphazard or confusion at the time of pre wedding photoshoot in Melkote or Shrirangapatna. 
Shrirangapatna & Melkote Pre Wedding Shoot Location and Price: 
Here are some of the locations with the respective price information for pre wedding photoshoot in Melkote.
Melkote Photoshoot Places: 
Bhuvaneshwari Temple

Stone Piller Pavement

Kalyani – Main pond with series of mandapas

Raya Gopura – A beautiful place to shoot early in the morning or before sunset. This place is famous for many movie shooting.

Dhanushkoti Trail – A nice landscape view of the surroundings can be captured.  
Melkote Photoshoot permission Charges: Rs 3500/-
Shringapatna Pre Wedding Shoot Locations are:
Scenic Points

Historic Temple

CORACLE Boat Ride- 

Cafe Garage, Mysore Bangalore Road- Might Charge you around Rs 500 to 1000 for a Shoot.

Melkote Pre Wedding Shoot Package and Price: 
This package includes:-
2 sessions ( Duration – 6-8 hrs shoot) 

2 to 3 locations with 3 costume changes.

Candid Style Photos, Pre wedding shoot video, Short Teaser, 1 candid photography camera, 1 cinematic camera, and 1 drone are included based on the package you choose.

Melkote pre wedding shoot photography cost- Rs 25,000 onwards

Melkote pre wedding shoot video/ cinematography- Rs 30,000 onwards.

Travel and accommodation should be borne by the clients for the Outstation shoot.
Please note we can customise the price and package based on your requirements. And can send you the quotation based on that. Best discounts and offers are provided if you book for both pre-wedding and wedding Photography services with PHOMETO Photography Services. We assure you of top-notch photography service with the best deliverables which can add magic to your memory dairy..!
Know the distance to plan your Melkote pre wedding shoot accordingly.
Now there are two options to plan your pre wedding photoshoot in Melkote. One from Bangalore and another from Mysore.
It is around 140 kilometres from Bangalore city through Mandya off the Mysore highway. Google would recommend two other routes that go through Nelamangala-Kunigal and Kanakapura Road. Given the wide range of possibilities for filling and recharging oneself, I would strongly advise choosing Mysore Road above the other two options. 

If you are starting from Mysore, the road which is about

60 km

is very neat and would be around 1.15mns. And 35 km from Srirangapatna.
Hope this Article has provided all the information required to plan pre wedding photoshoot in Melkote and Shrirangapatna. Plan your exquisite journey with your special one and commemorate this time of joy for a lifetime with spectacular pre wedding shoot photographs and videos. You can gift yourself a lovely time with your soulmate at these captivating peaceful outskirt locations away from the busy city life. Are you looking for Outdoor Prewedding Photographers around Bangalore? Then Melkote Pre wedding Shoot is one of the best options for a Day Plan. ...
Records your journey as a couple with PHOMETO pre wedding photoshoot team to make it more special. And to get the best and quick Quote based on your requirements. You can enquire us about a few more outskirt locations like Sakleshpura, Pondichery, Honnavar pre wedding shoot, etc. Call us at +91 96202 00005 for more information and bookings.
Thank you for your time,
All the best 🙂
Tejaswini C