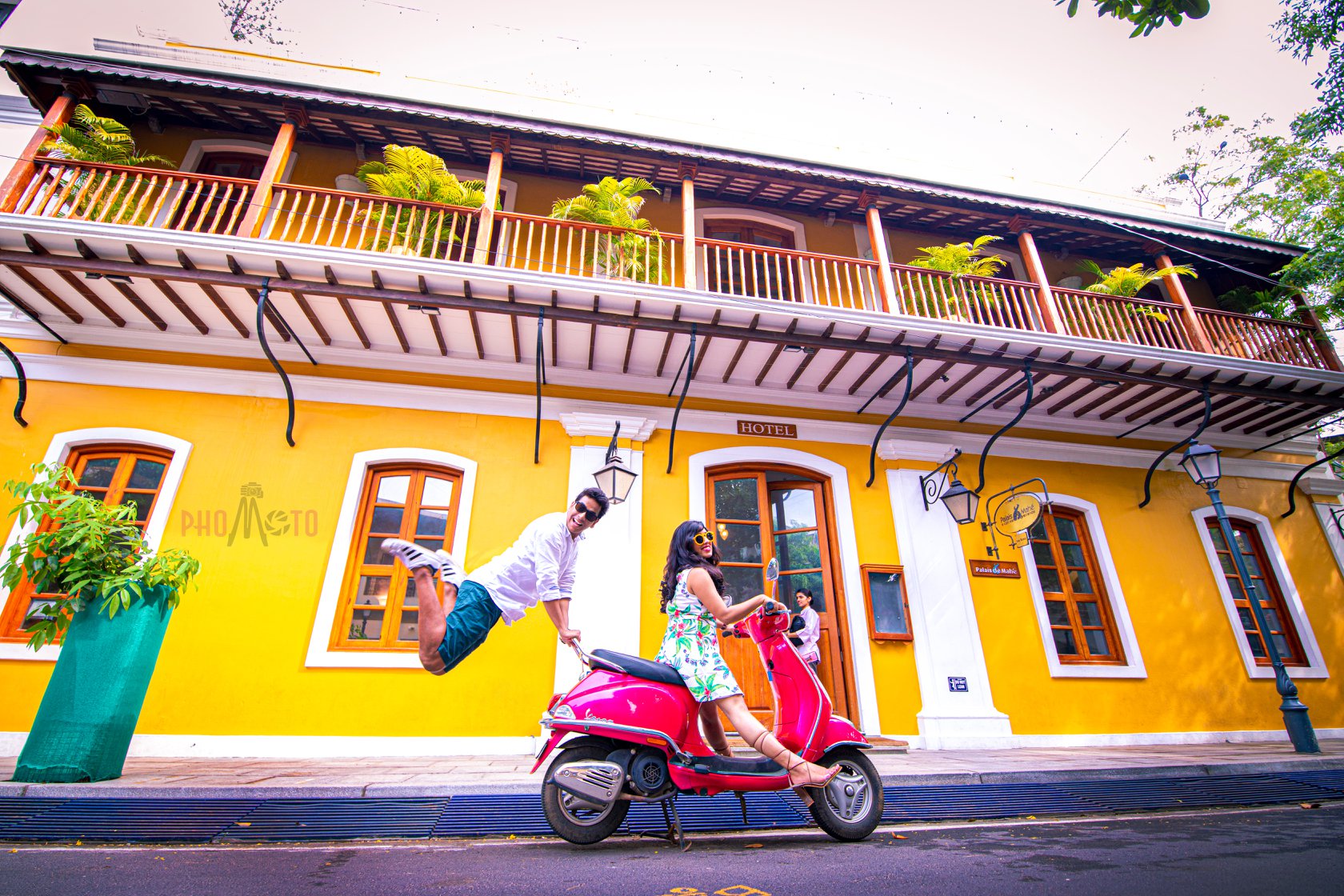 Do you have a question: which is the best place for a pre wedding shoot close to Bangalore? Looking for a scenic backwater location or an outdoor beach shoot with your soulmate? The ideal location would be Pondicherry Pre wedding shoot to get to know each other and spend quality time with your partner. You can through this blog which will walk you through the entire plan of action for Pre wedding shoot Pondicherry.
Pre Wedding Shoot Locations In Pondicherry: 
Pre wedding shoots are photo shoots taken before the wedding day to capture romantic moments between the couple. Due to its calm beaches, picturesque backwaters, vibrant colonial architecture, and rich culture, Pondicherry is renowned as one of the best pre wedding shoot locations. Some of the popular Best Places for Pre Wedding Shoot in Pondicherry include:
Auroville Beach and Area 

Promenade Beach

The French Quarter

The Sri Aurobindo Ashram

The Botanical Garden 

Old Light House
We can plan the shoots either at Auroville Beach and Area or White Town of French Quarter or the combination of both calm beach and vibrant colonial architecture. 

Why Pre Wedding Photoshoot In Pondicherry? 
There are several reasons why people choose Pondicherry for their pre-wedding photoshoot. Let me walk you through a brief overview of Pondicherry photoshoot places:
Picturesque locations: Pondicherry offers a variety of beautiful backdrops such as beaches, colonial buildings, temples, and gardens for the perfect pre-wedding photographs.

Unique architecture: Pondicherry's French colonial architecture provides a unique and charming background for the pre-wedding photographs.

Serene atmosphere: The serene and tranquil atmosphere of Pondicherry is perfect for capturing intimate and romantic moments.

Affordable: Pondicherry is an affordable option compared to other popular pre-wedding photoshoot destinations, making it a cost-effective choice.

Accessibility: Pondicherry is easily accessible from major cities in India, making it convenient for couples and their families to travel to for the photoshoot.
What else is required if you are planning pre wedding photoshoot with your soulmate? A captivating location combined with professional photographers and videographers would be a lethal combination for creating the best memory possible. Get in touch with PHOMETO photographers and cinematographers for the best pre wedding shoot in Pondicherry.
Cinematic Pre Wedding Shoot in Pondicherry by PHOMETO:
PHOMETO had a great time working with this couple Rishab and Anuradha – Save The Day Video
How to plan your Pondicherry Pre Wedding Shoot? 
Here is the action plan for the Pondicherry Pre Wedding Shoot with PHOMETO:
One Day Pondicherry Pre Wedding Shoot with PHOMETO- 
We can start the journey from Bangalore the day before and stay in Pondicherry (a 7-hour drive). You need to stay put so that you can get ready for the early-morning shoot the following day.
The shoot begins the next morning at 6 a.m. and lasts until 10.30 a.m. A break between 11 a.m. to 1.30 p.m., as you'll be worn out after four to five hours of shooting and won't be able to shoot at this time since it's sunny. The second half of the session begins immediately following lunch and continues in Pondicherry until dusk. Then pack up for the day while retaining your lovely recollections.
Contact us to learn more about Pondicherry photoshoot places and packages and plan your pre wedding shoot in Pondicherry accordingly. 
P
ondicherry Pre wedding Shoot
Cost and Package: 
This package includes:-
2 sessions ( Duration – 6-8 hrs shoot) 

2 to 3 locati

on

s with 3 costume changes.

Candid Style Photos, Pre wedding shoot video, Short Teaser, 1 candid photography camera, 1 cinematic camera, and 1 drone are included based on the package you choose.

P

ondicherry pre wedding shoot photography cost- Rs 25,000 onwards

P

ondicherry pre wedding shoot video/ cinematography- Rs 30,000 onwards.

Travel and accommodation should be borne by the clients for the Outstation shoot.
We promise to provide you with excellent photographic and cinematography services and the greatest products, which will make your memory journal come alive! We can customize the Pondicherry pre-wedding shoot cost and package to suit your needs, and then we'll give you a quote. If you choose PHOMETO for both wedding photography and pre-wedding photoshoot services, you will receive the best discounts and deals. Book Now!
Know the distance to plan your Pondicherry Pre Wedding Shoot accordingly. 
How far is Bengaluru from Pondicherry?
The distance between Bangalore to Pondicherry by car is approximately 350 km, and the estimated travel time is around 6-7 hours. The most popular route to drive from Bangalore to Pondicherry is via National Highway mentioned below:
Via NH75, NH69- 360 Km – Approx 6 hr 53 mn  
Via AH43, NH77- 314 Km – Approx 7 h2 22 mn
Renting a self-drive car online and traveling in your vehicle is very convenient for Pondicherry Pre Wedding Shoot. Another option is to hire a cab with a driver so you can see the sights without having to worry about driving. Alternatively, make arrangements with your photographers for whichever method is most convenient for you both, so that you can reach the location a day before the shoot and take the day off.
For Booking Pre Wedding photoshoot with PHOMETO, contact our team to know a few more locations and quotes accordingly.
Hope this Article on Pondicherry Pre Wedding Shoot is of use to plan your special Pre-wed moments with your Soulmate.
All The Best 🙂
Thank you, 
Tejaswini C