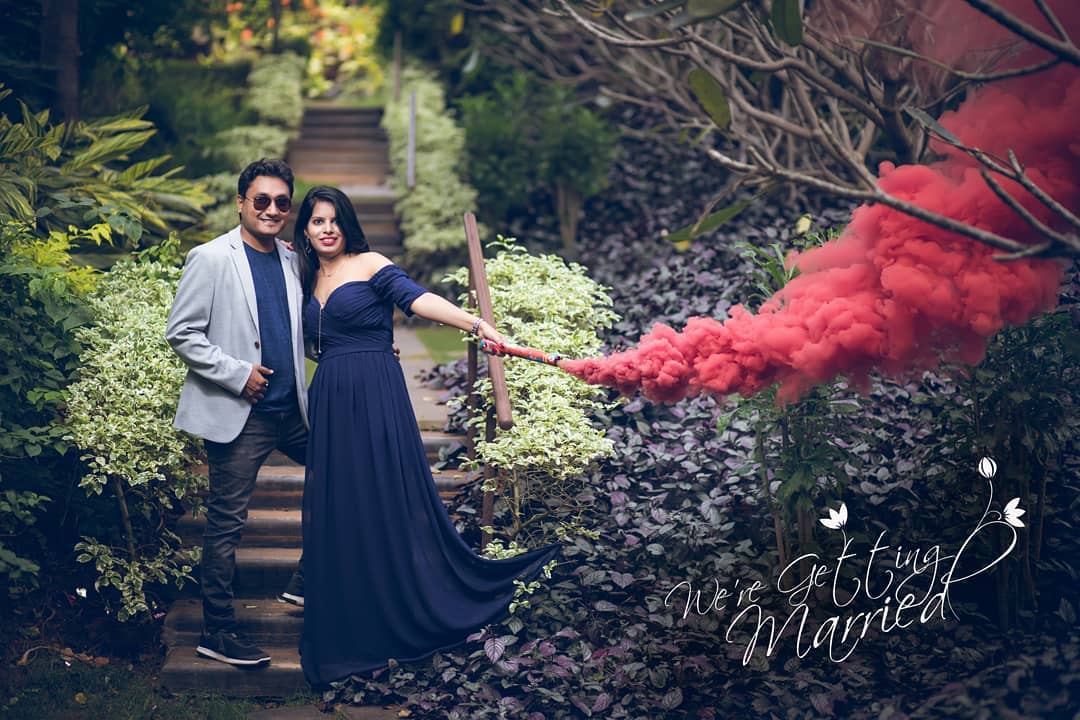 Best Props For Pre Wedding Photoshoots | Plan Your Pre wedding
Photoshoot with
PHOMETO Photography
Pre wedding photoshoots are becoming a trend these days. Choosing Props for pre wedding photoshoots with good location and poses enhances the beauty of the couple's portraits. Pre Wedding shoot allows you to spend some quality time with your soul mate with whom you have decided to stay for the rest of your life. This shoot allows getting comfortable in front of cameras for your Wedding Photography. However, it is always suggested to choose the right professional photographer to capture your one-time moment.
Props for pre-wedding photoshoots are used to make the bridegroom-to-be or pre-wedding couple look more special on camera captures. Believe me, some beautiful props for pre wedding photoshoots like colour bombs, holders, etc. make the photographs look more sumptuous eventually. You and your partner are the most important factor in the pre-wedding shoot, so deciding your prop for the day is the most significant with a suitable costume before the shoot. PHOMETO brings you some innovative and creative props for pre wedding photoshoots that will surely turn your shoot into a memorable one. 
Props for Pre Wedding photoshoots:
Here are some of the pre wedding shoot prop lists that are chosen to enhance and create more moments to be captured with your beloved.
Placards for Pre wedding Photoshoot:
Pre Wedding Placards with funny messages written on them can be used as a pre-wedding shoot prop. For example, 'Soon-to-be His Mrs.', 'Soon-to-be Her Mr.' or 'He asked, she said yes,' etc. Or any message that you want to convey through your photographs to your love can get it done. This can be cherished forever in the form of beautiful couple portraits.
Smoke Bomb for Pre wedding Photoshoot:
Smoke Bombs are bang on choice as one of the props for pre wedding photoshoots! It creates a beautiful segment for every photoshoot these days. A romantic pose followed by smoke bombs can do miracles to your photoshoot. Those colours create a romantic moment which is most required for the shoot.
Guitar for Pre wedding Photoshoot:
You can use the guitar as a perfect prop. It's not a big deal if you don't know how to play the instrument. Just hold a guitar with a pose as if you play it and let your photographer deal with it.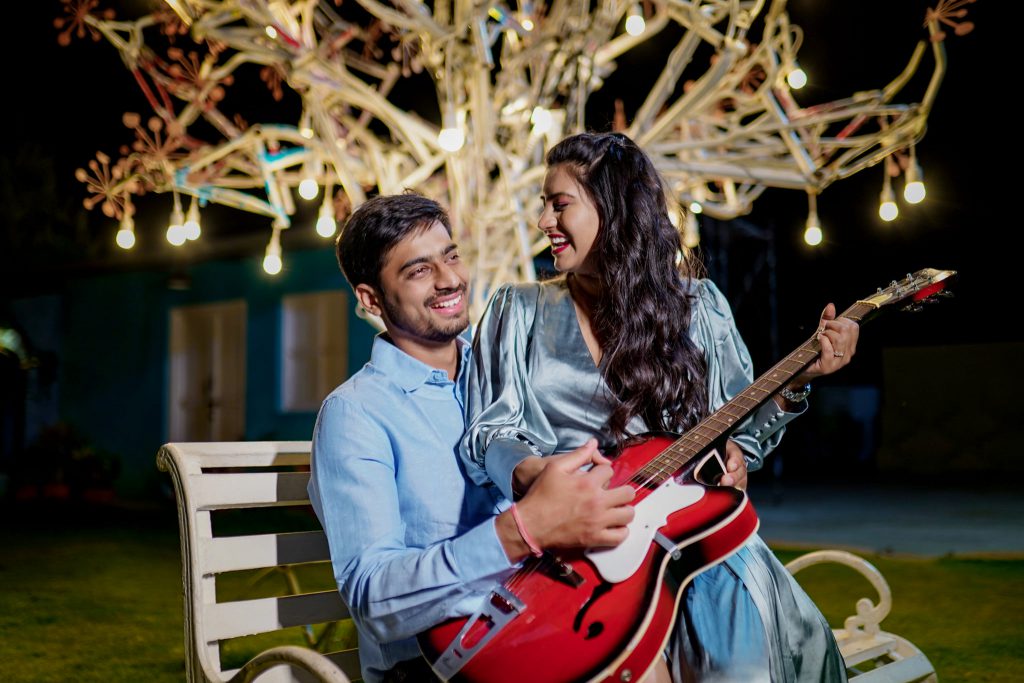 Goggles/ Sports theme for Pre wedding Photoshoot:
Fancy yourself with flashy goggles which will make you look cool, and come up with a sport that you and your partner like. These things get you guys nice shoot plus created memory.
Your Aspiration:
However, if you wish to bring along your aspired props then you are most welcome. You can get the things that you both are attached to or things that remember you both being together. We can use that as one of the props for pre wedding photoshoots. 
For example, reckon you and your soulmate are travel freaks and wish to capture the moment with the stuff related to travel. You can bring along those Trunkit bags, Trekking shoes and Windbreakers or if you two are bike lovers, then pose with your bullet or bike of your choice and get clicked in a romantic background. 
Hope this article has helped you to plan a perfect shoot with props for pre Wedding Photoshoots ideas. If you are short of ideas, our young team of professional photographers have more creative ideas to get the photographs more amazing. Plan your Pre wedding photoshoot with PHOMETO.
Just to add on, choosing an outstation shoot location like Honnavar, Sakleshpura, Melukote Cheluvanarayana Swami Temple, Pondichery, Goa, etc is also the best choice. As you guys get to create more beautiful moments and the photographers get better options to take explicit pictures with great ambience. If you are not concerned with the budget, then go for it! It is one time spend for life with your love. You can go through this article – Plan your Honnavar Prewedding Shoot if you are planning for an outstation shoot at Honnavar.
You can contact PHOMETO Photography service to book your Pre wedding photoshoot. For any enquires about the shoot or the package and price you can contact us at  +91 96202 00005 or visit our Website to know more about our photography services.
Please let us know about your views in the comment section. Help us with your valuable feedback to improve ourselves. 
Thank you 🙂