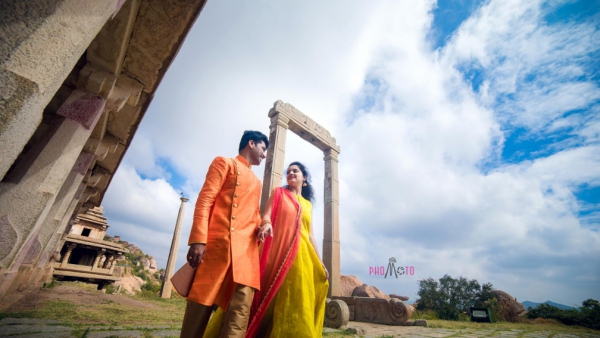 Thinking what to wear on your pre-wedding shoot?
Pre-wedding shoots are in full swing these days.
Everyone I know is more into Pre-wedding photoshoot rather than the wedding itself.
Weddings are a season of love, joy, getting together, family-friends reunion and a lot more. Announcing your big day with friends and family gets a lot easier with the pre-wedding photo shoot.
Pre-wedding photoshoot explains what kind of couple you are and a sneak-peak of the
Big day.
The focus of any Pre-wedding photo shoot is not the clothes, but you and your partner.

Deciding what to wear for pre-wedding photos can be a tough one!
Here are a few tips for the pre-wedding photo shoot.


CONSIDER THE LOCATION
The most important question to ask is, "Where is your shoot going to be?"
If you're going to shoot in more than one location, think about each pose and what to wear at each location.


CHOOSE YOUR COMFORT
Make sure you choose outfits you're comfortable in and can move around easily. without having nothing to worry about. Especially tucking in your stomach.


BE CHOOSY WITH THE COLOUR
Work with your location's lightings and attire colors to look like Adam & eve in the beautiful garden of Eden in your pre-wedding photos.


THE ACTIVITY PLANNER
Do you both do an activity together?
Wear matching outfits like matching shirts and white sneakers, etc


BE CALM AND RELAXED
Even with the suit and the gown feel relaxed by losing your hair and the tie.
Maybe getting rid of the footwear also.


TRY A SHORT WEAR
A short dress gives a flirty, playful vibe. He can also wear ankle length bottoms to team up with your flirty dress.


BEAUTIFUL IN WHITE
A white dress hints the gown to come!


USE HIGHLIGHTING COLOURS
Blue and yellow is a classic color combination that highlights perfectly in all backgrounds, and won't go out of style.

TEAM-UP
May it be working out together or sporting together. Pick up your favorite team's jerseys or your fitness suits and dumbles for the pose.


MATCH YOUR SHIRTS
wear matching Denim, checked or plain light shirts.
Topped with contrasting bottoms.


CONSIDER BACK PHOTOSHOOTS
A Backless dress, wear suspenders or waistcoat for men. Hold the coat behind your back.


THINK CLASSIC
Add retro into your pre-wedding looks.
Either Bollywood style sarees, round bun with flowers and red lipstick with heavy eye makeup and men with a bow, suspenders etc


JACKET
A jacket makes you look classy despite whats worn inside.


MATCH THE SHADES
Coordinate your pre-wedding photoshoot with matching shades.
If she wears a purple gown make sure you wear a purple shirt.


A MAN IS JUDGED BY HIS SHOES
Try keeping the Footwear classy.
Also, try and match out your Footwear. A pre-wedding photo shoot is a gateway for guests to see what kind of a couple you are.
Attire for both Groom and the bride:



FOR A SUMMER PRE-WEDDING PHOTOSHOOT
Summer is all about the bright colors and sunny days. Try wearing easy breezy clothes.

A SHORT SUMMER DRESS
She can either choose a plain white summer short dress or even go with florals.

He can wear a light casual shirt, dark pant, and sneakers.

A PUNJABI SUIT
Try wearing a Patiala set with a colorful dupatta and imagine the colors contrasting with the location.

He can wear a dhoti and a kurta with contrasting color.


MIDI WITH TOP
A tight Midi skirt topped with a puffy top makes you look stunning.
H&M, Zara, forever21 have an amazing collection of these.
He can wear the Trendy Bermudas with printed shirts


MAXI DRESS
Plain, multicolored, checked, floral or just classic bold colors. A maxi dress can handle the looks lavishly.

He can wear a pathani.


FOR A MONSOON PRE-WEDDING PHOTOSHOOT

SAREE
Beach, rain and you in a saree. Its the best attire any girl will look stunning in.
Saree is a girl's favorite attire.
You can look totally gorgeous and yet traditional at the same time in a saree.

He can wear a simple and plain kurta.


ANARKALI GOWN
A long over heel length Anarkali gown is perfect for pre-wed shoots. It spreads all over when you do poses of turning around
and those bright colors reflecting back makes you look beautiful.
Soch, label ritukumar have an amazing collection on this.
Nehru jacket and semi-casual outfit for Him.

FOR A WINTER PRE-WEDDING PHOTOSHOOT

Autumn leaves, chilly winter morning breeze with glittering rays of sunshine makes for the perfect picture background.

JEANS PAIRED UP WITH A CASUAL TOP
If you are someone who is not into dressing up and want to keep it simple and get some fun pictures clicked.


EVENING GOWN
There is something vintage and royal about evening gowns. Have no second thoughts and go with this attire.

He can wear a Tuxedo.

SHORT PARTY DRESS
Short sequined or glitter glam dress with High heels look amazing in photoshoots.
Forever 21 has a good collection.

He can wear Formals with a waistcoat

LEHENGAS
Lehengas cannot be compared with any outfit.
When lehengas are worn it speaks for itself royal, elegant, classy with bold colors. if you have one best thought would be to use it.
Soch has a great collection.

He can wear a sherwani.